2021 Year-at-a-Glance Calendars
Your clients will appreciate your 2021 Year-at-a-glance refrigerator calendar magnets. Our strong magnets will keep these realtor calendars visible so your clients will see them every day. Fridge calendar magnets are a popular promotional item because they are cost effective for the agent and useful for the recipient.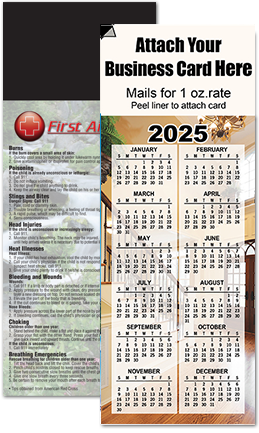 Overall Size 3.5" X 8.5"
12 pt Gloss Stock
Laminated Front
Min. Order Qty:
Production Time: Days

Overall Size
1" X 3" Magnet On Back
UV Coated Front
Min. Order Qty:
Production Time: Days

**
Choose Your 2021 Calendar Options
Select from our library of beautiful designs to create your custom calendar magnet and decide if you want us to customize your calendar or if you prefer to add your own business card. We offer both options. Our magnetic calendars for business cards ship faster and cost less while our personalized calendar magnets are beautifully imprinted with your information and ready to give away upon arrival.
Choose yours based on what will work best for you now. Can't decide? Order some of each to try both! Our low minimums and affordable prices mean it's easy to try a few of each and then order more of your favorites before your next big mailing or event.
Peel and Stick Business Card Calendars
These magnetic calendars for realtors offer a peel way adhesive area for you to attach your own standard-size business card. This "customize it yourself" magnetic calendar with business card option is less expensive and ships a few days faster than the custom imprint option -- but will require you to add your card before distributing them.
Custom Imprinted Calendars
Our full-color, custom imprinted year-at-a-glance calendar refrigerator magnets are an efficient way to reach out to your farm list once a year. Clients love magnet calendars. Real estate agents love an easy, cost-effective way to check in once a year. This product manages to do both and they arrive ready to give!