Seed Packets: Promotional Gold
The best way to get great referrals? Be memorable. Give great service, go above and beyond, and then leave a promotional "calling card" that grows and blooms and keeps you in their mind long past the point that most real estate agents are forgotten.
Brighten their day with beautiful flower seeds. Spice up their lives with herbal seeds. Nourish their loyalty with hearty vegetables. Choose from our wide selection of available seed varieties and our beautiful full-color artwork on the front of each seed packet!
While enjoying these gifts your clients will remember how you helped them to find the house of their dreams… and they will remember you when their friends and family are ready to buy or sell.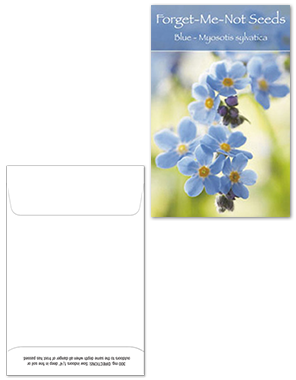 Size: 6.125" x 4"
No Imprint
Min. Order Qty:
Production Time: Days
Shipping Charges Additional

Personalize Your Seed Packets: 3 Ways
You can get a full-color front image with a blank back seed packet to use as is, to handwrite a personal note on the back or to attach one of your business cards (add link to business cards page)
You can differentiate the full color front from your information on the back by selecting a black ink personalized back panel.
You can make your custom seed packet full color on both sides, with your information appearing in full color (along with your photo if you like) on the back side.
How to Use Your Customized Seed Packets
Reach out to past and potential clients with seeds of the season: a packet of red white and blue flowers for Independence day, a grow your own Christmas tree packet in your holiday card, a spring time variety of seeds when the weather turns warm or to remind them to change their clock for daylight savings time. You can also select a packet to help them celebrate Earth Day!
Create the ultimate housewarming gift: Select provide seeds for an entire flower bed, a raised garden or an herb garden with a gift of gardening gloves, a hand-held gardening tool set and a watering can!
Tuck a seed packet inside your thank you note after the closing, or create your own signature way of using these unique promotional options.
Other Promotional Items
Be sure to visit our stationary page for notecards and envelopes to send a hand-written note with your choice of seed packets to your past clients, current clients and potential future clients. Staying in touch keeps you memorable and our seed packets give you a great, seasonally appropriate way to reach out and connect with your clients all through the year.
All our products are made proudly in the USA.