20-Sheet Magnetic Real Estate Notepads
20-Sheet Magnetic Notepads
Select the magnetic notepad that best fits your needs.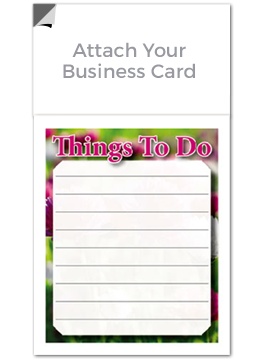 Overall Size 3 1/2" X 6 1/4"
Min. Order Qty:
Production Time: Days
Shipping Charges Free

A notepad is more than a marketing tool; it provides new and existing clients with a functional way to keep track of their day-to-day responsibilities. Our 20-sheet magnetic notepads are the perfect gift because they allow you to promote your business in a way that actually benefits clients. It is truly a mutually-beneficial product, one that real estate agents nationwide have trusted for years. From grocery lists to reminders, you never know when a notepad is going to come in handy. Clients can store them in their purse or attach them to the fridge.

Our magnetic notepads offer many opportunities for your face and contact information to be seen. Next time you meet a new client or catch up with an existing one, consider giving them a notepad. They will appreciate the gift and have a daily reminder of your real estate services.